The Rune is Available
Not having been the most active of creative of beings in the past, I was never entirely sympathetic towards the artist who decides to share his creation with the general populace.
Nearing the final moment of getting a book out to the open world is daunting, and suprisingly stressful.
But the final step of actually opening it up to the world to see, now that is frightening. But I've done it.
The aggregator and online publisher, Smashwords, now has "The Rune" available and it is in the process of being reviewed for distribution via Apple, Barnes & Noble, Amazon Kindle and others.
I'm offering a 15% sample, so since its there, feel free to head on over.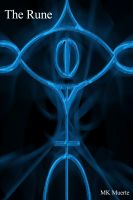 Words: 162118 (Approx)
Genre: Fiction, Fantasy, Epic
Language: English
ISBN: 9781301479566
Formats offered:
- Kindle
- Epub
- PDF
- Palm Doc